S.W.A.G. Showcase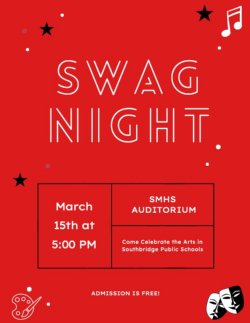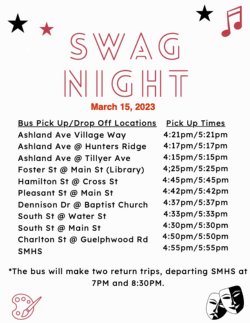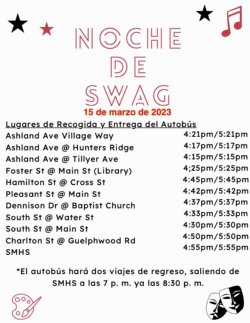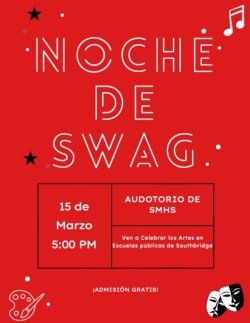 What

S.W.A.G. Showcase

When

3/15/2023, 5:00 PM

–

8:00 PM

Where

Southbridge Middle High School
A bus will be available for transportation to the SWAG arts showcase. See times below to catch the bus to Southbridge Middle High School for the showcase on Wednesday, March 15, 2023. You can reach out to [email protected] with any questions.
You are invited to the Southbridge Public Schools annual SWAG Showcase ("Students With Artistic Gifts)! This popular yearly arts event brings together visual, dramatic, and performing arts from students of all ages at each of our schools.
SWAG Showcase
March 15, 2023
5 pm
SMHS Auditorium
Come celebrate the arts in Southbridge Public Schools
Admission is free!
-----
Habrá un autobús disponible para el transporte a la exhibición de arte SWAG. Vea los horarios a continuación para tomar el autobús a Southbridge Middle High School para la exhibición el miércoles 15 de marzo de 2023. Puede comunicarse con [email protected] si tiene alguna pregunta.
¡Está invitado a la Exhibición SWAG anual de las Escuelas Públicas de Southbridge ("Estudiantes con Dones Artísticos"). Este popular evento anual de artes reúne artes visuales, dramáticas y escénicas de estudiantes de todas las edades en cada una de nuestras escuelas.
Noche de SWAG
15 de marzo de 2023
5 pm
Ven a celebrar los artes en Escuelas Públicas de Southbridge
¡Admisión es gratis!
Copy to Google Calendar
•
Download iCal Event